Let us walk you through the steps of enrolment. 1) Read through our website and
make an enquiry
or
book a tour.
2)
Complete an online application.
3) Your application will be processed and forwarded to our Enrolments Committee. 4) We'll arrange an interview with our Principal, Head of Primary or Head of Teaching and Learning at a suitable time. 5) Confirmation of enrolment is communicated in writing. If you have any questions related to this process, please phone the College on 07 5446 4780 and ask to speak to our Enrolments Officer, Candice Radford.
As an accredited independent school, we receive funding from the State and Federal Governments which provides a level of financial support. To maintain a high standard of educational programs and to develop College facilities, tuition fees and levies are charged to parents.
Our cost structures are low which means fees are kept to a minimum, and operating expenditure is carefully monitored to ensure wise stewardship. Sibling discounts are offered to families who have two or more students enrolled.
We also offer temporary financial relief through our concession program to parents experiencing financial difficulty. Please ensure you meet with our Business Manager if this is a concern.
Coolum Beach Christian College operates a fleet of private buses for the convenience and safety of our community. Bus fares are divided into zones and trip or term prices are based on frequency of use as well as distance travelled to and from the campus. Discounts to the per student fee are offered to siblings in order to make this service more affordable. Fees are continually reviewed with our intention to make them affordable, falling close to comparative costs of using your own vehicle whilst saving people from the demand of time and commitment.
A place on the bus is subject to availability of seats, and full-time bus use students have priority to casual or part-time bookings.
Sibling discounts apply as stated above. Our bus operates a non-profit service aimed at keeping overheads to a minimum.
Refunds will not be given for days when children do not use the bus.
2021 Bus Information and Application
Code of Conduct for Students Travelling on Buses
Code of Conduct Parents and Carers Factsheet
All of our students are required to comply with the College's uniform regulation. This includes whilst travelling to and from the campus. Dress standards are necessary and will be expected in order to maintain a high level of representation of our College to the community.
The College uniforms are available 7 days per week and online via The School Locker.
Visit their website here.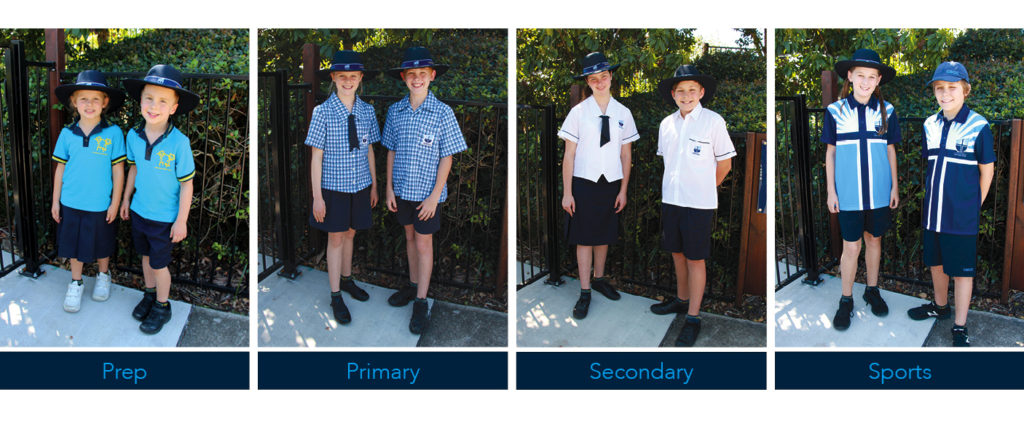 For full uniform specification, please download the documents below:
Primary Formal Uniform
Primary Sports Uniform
Secondary Formal Uniform
Secondary Sports Uniform
CBCC families are welcome to advertise secondhand uniforms via a Facebook group for free. Search on Facebook for 'CBCC Secondhand Uniform' and you can request to be added to the group.
Donations of uniforms are always greatly appreciated. Secondhand uniforms are used to assist students in financial difficulty and students who on the odd occasion are not in the prescribed uniform. Donations may be handed into Business Services.
CYOD or 'Choose Your Own Device' is the CBCC policy for purchasing devices for student use in Years 6-12. We ask you to choose your device from this list of options. All of these options cover our base requirements for effective learning at school over the next 3 years.
For more detailed information on our CYOD policy and our philosophy around the role of technology and education, click here.
To purchase a device, please read the instructions available in the CYOD Policy document above, then access the CYOD portal by clicking here.
2021 Term Dates
Term 1 Starts: Wednesday 22nd of January.
Term 1 Ends: Thursday 1st of April.
Term 2 Starts: Monday 19th of April.
Term 2 Ends: Friday 18th of June
Term 3 Starts: Monday 12th of July.
Term 3 Ends: Friday 17th of September.
Term 4 Starts: Tuesday 5th of October.
Term 4 Ends: Friday 19th of November (Grade 12)
Wednesday 1st of December (Grades P-11)
2022 Term Dates
Term 1 Starts: Monday 24th of January. (K-7)
Tuesday 25th of January (8-12)
Term 1 Ends: Friday 1st of April.
Term 2 Starts: Tuesday 19th of April.
Term 2 Ends: Friday 17th of June
Term 3 Starts: Monday 11th of July.
Term 3 Ends: Friday 16th of September.
Term 4 Starts: Tuesday 4th of October.
Term 4 Ends: Friday 18th of November (Grade 12)
Tuesday 29th of November (Grades P-11)